We're sorry!
The CD Special promotion is only active between 10/01/2017 23:59 and 11/05/2017 23:59.
Happy Birthday Central National Bank!
We're celebrating 133 years during the month of October and we're giving all of the presents to you, our valued customers.
Take advantage of our excellent 12 Month CD Rate at 1.33% APY*.
To open a CD, simply stop by your local branch and speak to one of our Personal Bankers. The special rate is available to core customers with a minimum deposit of $5,000*.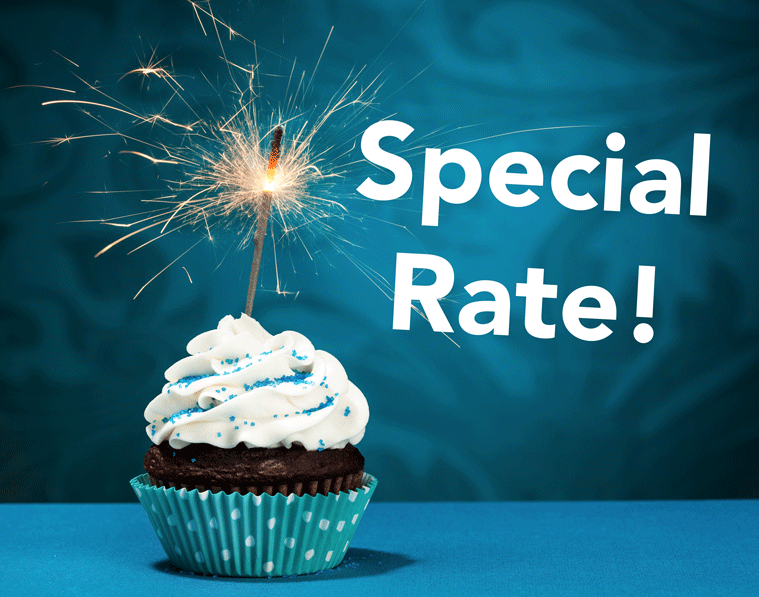 What is a CD?
A certificate of deposit is a timed deposit. You deposit a specific amount of money for an agreed upon term and after the term is up, you withdraw the money along with a healthy sum of interest. The higher the APY (or annual percentage yield) the higher amount of interest you will earn on your deposit. There's a penalty for early-withdrawal, so as long as you have a decent emergency fund, it's a fairly low-risk investment and a good way to tie up some of your funds if you're looking for a way to avoid spending in favor of saving.
*Limited time offer. Annual percentage yield accurate as of October 2, 2017 and is only available for a limited time. Rate is based on specified term and required $5,000 minimum deposit. Penalties apply for early withdrawals; fees may reduce earnings. Offer good for initial term only; automatic renewal will be at rate in effect at time of renewal. A new or existing Central National Bank checking account is required. Not available for public funds.
How can we help?
Let us know the best way to reach you and one of our customer representatives will be in touch.
Secure Page Sign-In
Ensuring the security of your personal information is important to us. When you sign in to Online Banking on our home page, your User Name and Password are secure. The moment you click the Log In button, we encrypt your user name and password using Secure Sockets Layer (SSL) technology.
Browser Security Indicators
You may notice when you are on our home page that some familiar indicators do not appear in your browser to confirm the entire page is secure. Those indicators include the small "lock" icon in the bottom right corner of the browser frame and the "s" in the Web address bar (for example, "https").
To provide the fast access to our home page, we have made signing in to Online Banking secure without making the entire page secure. You can be assured that your ID and password are secure and that only Central National Bank has access to them.
Centralnational.com is SSL-Encypted
Secure Socket Layer (SSL) technology secretly encodes (encrypts data) information that is being sent over the Internet between your computer and Central National Bank, helping to ensure that the information remains confidential.
Leaving Site
You have requested a web page that is external to the Central National Bank (CNB) web site. The operator of the site you are entering may have a privacy policy different than CNB. CNB does not endorse or monitor this web site and has no control over its content or offerings.
Continue to Site
Cancel