Contact
Can't find what you're looking for? Have another question? Send us a secure message and we will be happy to help.
If you are reporting a lost or stolen ATM or Debit Card, please contact us immediately during regular business hours at 1-888-262-5456 or after hours at 1-866-546-8273.
Other ways to contact us:
---
Phone: 1-888-262-5456
Fax: 785-231-1414
US Mail:
Central National Bank
Attn: Online Services Dept.
800 SE Quincy St
Topeka, KS 66612
Try Our Mobile App!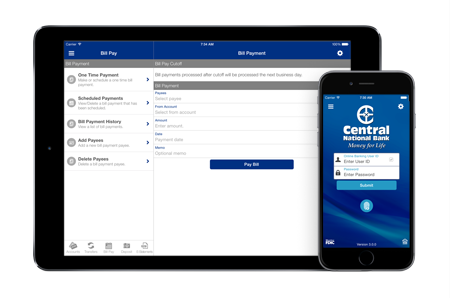 View account information, transfer funds, suspend and unsuspend lost or stolen debit cards, deposit checks and more! Your financial information is available at your fingertips 24 hours a day, seven days a week.
Learn More