139 Years Strong
In 1884, Sumner Pierce (pictured), a businessman originally from New York who had moved to Kansas in 1879, organized the Central Kansas Bank with capital of $50,000. When it opened October 1, 1884, the bank provided a fire-proof vault, a burglar-proof safe, and a time lock to secure deposits.
In 1889, bank management decided to change from a state bank to a national bank in order to provide depositors the greater safety offered by a national bank, as national banks were required to have more capital to cover depositors. In 1890, the Comptroller of the Currency approved the change, and the bank name was changed to Central National Bank. Sumner Pierce served as president of Central National Bank from 1890 to 1914.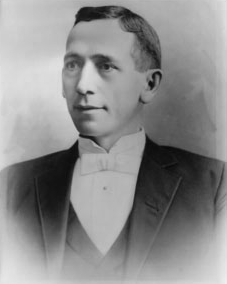 The Next Century
In 1915, Arthur Dale Jellison (pictured) bought controlling interest in the Central National Bank from the Sumner Pierce Estate. Jellison convinced Edward W. Rolfs, his secretary at Wilson State Bank, and Herbert W. Jacobs, a salesman with Hall Lithographing Company, to join the Central National Bank.
A.D. Jellison served as President of Central National Bank from 1915-1920 and as Chairman of the Board from 1921-1966. He was then elevated to Honorary Chairman of the Board and served three more years in that capacity. Jellison's 54 years of dedicated service to Central National Bank started the legacy of success that continues today. His vision for the bank and his commitment to the community were especially notable.
In addition to his bank duties, Jellison was President of the Jellison Trust Company, Military State Bank, Bank of Funston at Camp Funston, Bankers Cattle Loan and Farm Mortgage Company of Boston, and a board member of Farmers and Bankers Insurance Company of Wichita. He founded the Jellison Benevolent Society, served as secretary of the George Smith Public Library for 20 years, and was Chairman of the Geary County Red Cross Chapter. He was trustee of the College of Emporia for 15 years, and one of the organizers of the Kansas State 4-H Foundation and Rock Springs Ranch.
In 1909, construction started on a new bank building at the corner of Eighth Street and Washington in Junction City. During November of 1910, Central National Bank began operations in this new building. This building continues to be used as a Junction City Central National Bank location today.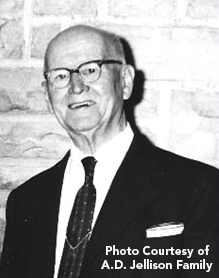 Strength in Difficult Times
Strength has been one of the mainstays of Central National Bank through its history, even in trying times. The 1930's found the country in the depth of the Great Depression, and 8,300 banks had failed by 1933. Central National Bank was the only bank in Junction City permitted to reopen following the bank holiday declared by President Franklin D. Roosevelt on March 5, 1933.
The desperate times of the 1930s led to new banking regulations. Congress removed the authority of National Banks to issue currency, and authorized a national currency to be printed by the U.S. Bureau of Printing and Engraving. On December 12, 1934, the Central National Bank Board of Directors pledged $75,000 of U.S. Consols to support the outstanding issuance of currency--one of their final actions after half a century of currency transactions. The Central National Bank of Junction City, Kansas, issued bills in $5, $50, and $100 denominations.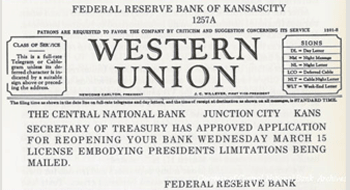 Agricultural Expertise
Agriculture was the foundation of the local economy when Central National Bank was founded in Junction City in 1884. The bank is proud of its long tradition of service to the farmers and ranchers who make Kansas one of the strongest ag production states in the United States. The bank's commitment to agriculture continues today, and Central National Bank has the most experienced and knowledgeable ag lending staff in the state.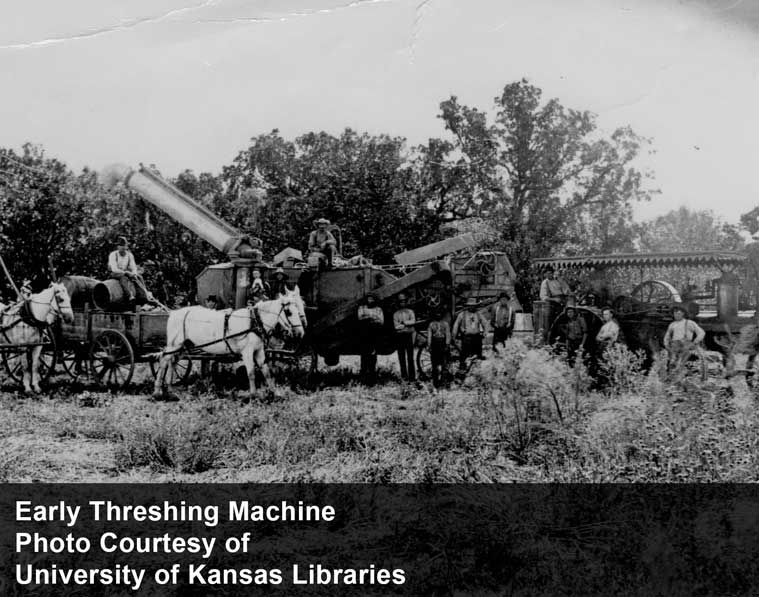 The Cutting Edge
In the early 1960s, new and revolutionary equipment came into widespread use in the banking industry. The computer's great capacity to store, retrieve, and analyze information freed bank personnel from many tasks that had previously been performed with pen and adding machine. Central National Bank began computerized check processing and record keeping in 1966. In 1975, Central obtained an IBM computer that enabled all processing to be done "in-house". Self-service banking began in 1978 with the purchase of two Automatic Teller Machines, or ATMs; this technology kicked off major changes to the banking industry, and we continue to see changes from this innovation today.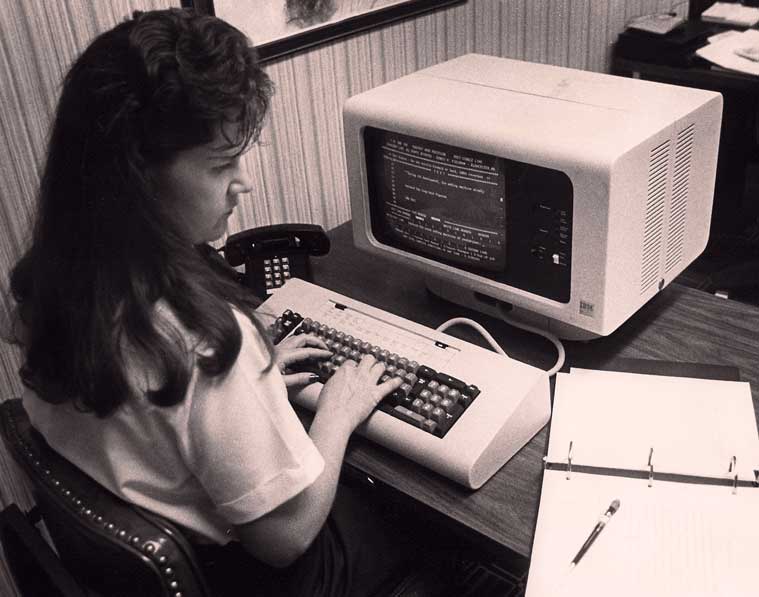 From 1998 to the present, the industry has seen great technological advancement. We saw Online Banking make its debut in 1998, followed by the introduction to Bill Pay in 2002. From there, advancements have ranged from Smart ATMs in 2008, to Mobile Banking apps in 2010. Central saw the opportunity to roll out Mobile Deposit in 2013, followed by the free financial management tool within online banking, called MoneyCentral, in 2016. Our most recent advancement is the beginning of a wave of installations of Interactive Teller Machines, or ITMs, in 2017.
Today, Central provides 70+ ATMs across Kansas for customer convenience, and continues to provide the best in banking technology for customers.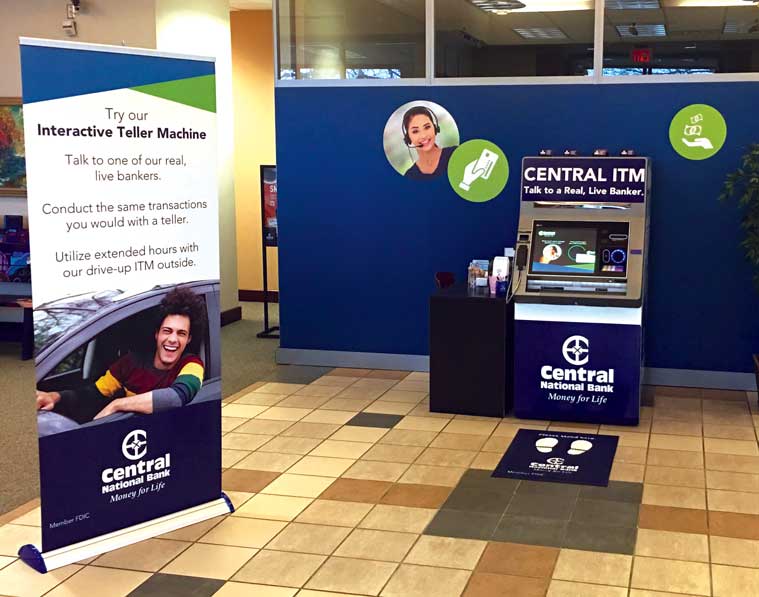 A Family Tradition
When Edward W. Rolfs came to the Central National Bank in 1915, he began an association with the bank that continues today for the Rolfs family. E.W. Rolfs served as bank president from July 15, 1959 until January of 1967 when his son, E.J. Rolfs, took over as president. E.C. Rolfs, son of E.J., assumed the responsibility of President and CEO in 1993 until 2016 when niece Sara Girard accepted the role of President. Girard makes the fourth generation of the Rolfs family to work and provide leadership for the bank's day-to-day operations.
Central National Bank has grown from having one location in Junction City, Kansas, to become one of the states' strongest banks, with branches in 22 communities. This growth in size has allowed Central National Bank to provide a wide array of valuable products and services that are delivered with leading technology, such as online banking, convenient mobile apps and the introduction of Interactive Teller Machines in 2017. Best of all, these convenient channels are combined with personal, local solutions from community-minded bankers for those times when you need expert advice.
How can we help?
Let us know the best way to reach you and one of our customer representatives will be in touch.
Contact Us
Open Account
Secure Page Sign-In
Ensuring the security of your personal information is important to us. When you sign in to Online Banking on our home page, your User Name and Password are secure. The moment you click the Log In button, we encrypt your user name and password using Secure Sockets Layer (SSL) technology.
Browser Security Indicators
You may notice when you are on our home page that some familiar indicators do not appear in your browser to confirm the entire page is secure. Those indicators include the small "lock" icon in the bottom right corner of the browser frame and the "s" in the Web address bar (for example, "https").
To provide the fast access to our home page, we have made signing in to Online Banking secure without making the entire page secure. You can be assured that your ID and password are secure and that only Central National Bank has access to them.
Centralnational.com is SSL-Encypted
Secure Socket Layer (SSL) technology secretly encodes (encrypts data) information that is being sent over the Internet between your computer and Central National Bank, helping to ensure that the information remains confidential.
Leaving Site
You have requested a web page that is external to the Central National Bank (CNB) web site. The operator of the site you are entering may have a privacy policy different than CNB. CNB does not endorse or monitor this web site and has no control over its content or offerings.
Continue to Site
Cancel