Business Services
Whether your business is large or small, we have options to increase your efficiency!
Help my Business
More Than a Bank Account
It's money for life.
Bank with Benefits
Identity theft protection, roadside assistance, cell phone protection, and more? Is this a bank account or a best friend?
Start Over
We've created access to banking services for those who have previously not had it. Rebuild your history and begin a better future.
New Opportunity Checking
Spend Wisely
If you would like to save money every time you swipe your card, our It Makes ¢ents! account makes sense for you.
It Makes ¢ents!
Online & Mobile Technology
We admit it, we're nerds. 🤓
But we're committed to giving you cutting edge technology with every account.
Online & Mobile Technology
Community Oriented
We're a vibrant company that is dedicated to providing the quality service that makes our customers and the communities we serve successful.
We also demonstrate a long history of security, soundness and a strong capital position. There's comfort in knowing that the same conservative approach that held true through the last hundred years will continue to lead the organization into new challenges.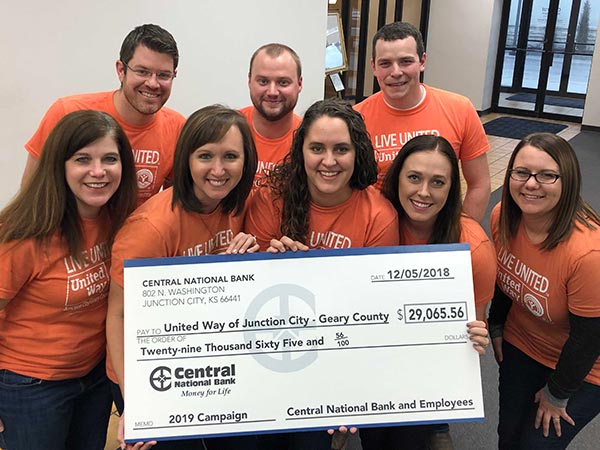 Tired of Lender Fees? So are we!
The cost of a mortgage or refinance can add up over time, which is why we're offering the Money for Life, Mortgage Fee Guarantee to Central National Bank mortgage customers.
Home Mortgages
Investments
We offer comprehensive wealth management that is tailored to meet your unique financial and estate planning needs. Put our team of financial professionals to work to reach whatever your goals may be.
Investment Products
Find an Advisor
Auto Loans
One of the most exciting purchases you'll ever make, whether it's a car that holds your entire family, or a sporty little two-seater.
Auto Loans

Central Stars
Nominate your favorite employee for our Central Star Award.
Central Star Award

Careers
Central National Bank has exciting options for current job seekers.
Careers
How can we help?
Let us know the best way to reach you and one of our customer representatives will be in touch.
Contact Us
Open Account
Secure Page Sign-In
Ensuring the security of your personal information is important to us. When you sign in to Online Banking on our home page, your User Name and Password are secure. The moment you click the Log In button, we encrypt your user name and password using Secure Sockets Layer (SSL) technology.
Browser Security Indicators
You may notice when you are on our home page that some familiar indicators do not appear in your browser to confirm the entire page is secure. Those indicators include the small "lock" icon in the bottom right corner of the browser frame and the "s" in the Web address bar (for example, "https").
To provide the fast access to our home page, we have made signing in to Online Banking secure without making the entire page secure. You can be assured that your ID and password are secure and that only Central National Bank has access to them.
Centralnational.com is SSL-Encypted
Secure Socket Layer (SSL) technology secretly encodes (encrypts data) information that is being sent over the Internet between your computer and Central National Bank, helping to ensure that the information remains confidential.
Leaving Site
You have requested a web page that is external to the Central National Bank (CNB) web site. The operator of the site you are entering may have a privacy policy different than CNB. CNB does not endorse or monitor this web site and has no control over its content or offerings.
Continue to Site
Cancel