We're sorry!
This promotion is only active between 4/30/2017 23:59 and 9/30/2017 23:59.
Auto Loan Special
Central National Bank offers competitive rates to finance your next new or used automobile purchase.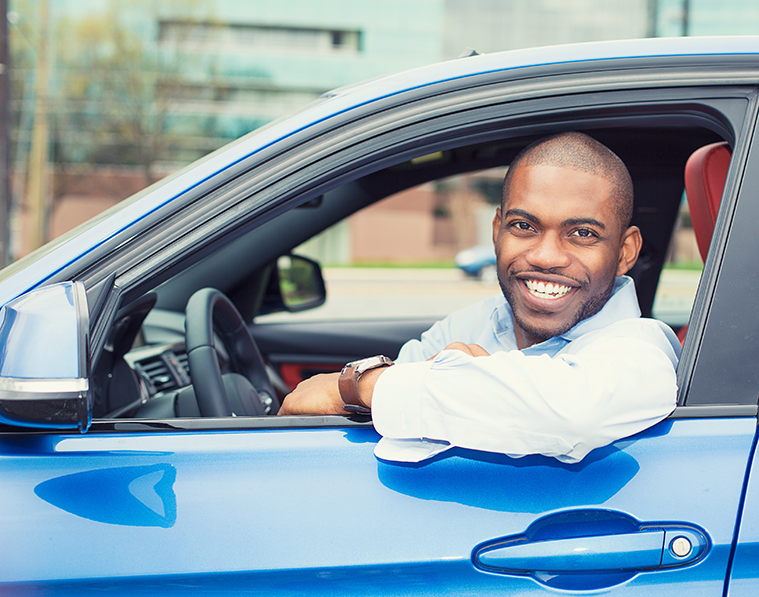 Features
Rates as low as 2.79% APR1
No origination fee
100% Financing available for autos 2012 and newer2
1Interest rate for quoted APR is 2.79%. Restrictions apply to qualify for this rate. Loan options vary by age of vehicle, amount and term requested. Rate updated as of 5/1/17 and is subject to change.
2Restrictions may apply.
Can I afford a new car?
Be prepared! It's important to know what your limitations are. If you have a limited credit history, you may need a co-signer. When someone co-signs your loan, you are asking them to be responsible for your loan should you fail to make payments. So make your decisions wisely, if your co-signer is on a fixed budget and something happens that keeps you from paying your bill, then they're responsible for making the payments, and you've just put them into a tough situation.
We are happy to do a payment calculation for you before you apply for the loan. All we need to know is the purchase amount and how much money you intend to put down at purchase. Sometimes you can find an online calculator. Once you have an idea about the payment amount you can figure out your total monthly bills and compare that to your monthly budget.
Call your local treasurer's office and get information about the tags and taxes. Some counties may have a tax estimator on their website for your convenience.
Call your local insurance agent and ask them for an auto rate quote as well. That will also figure into your monthly or annual bills depending on how you choose to pay.
Apply Now
New Ride, New Insurance.
Let our agents get you quotes.
Learn More
Saving Money Just Got Easier.
Save with every swipe of your card.
Learn More
Frequently Asked Questions
What kind of vehicles will Central National Bank finance?
Central National Bank will finance most new or used vehicles. Rates and terms are based on the age of the vehicle.
Do I have to buy a car from a dealer? Or can I use this auto loan to buy my neighbor's car?
You may purchase a car from a dealership or through a private seller. If purchasing from a dealership, we will require a purchase agreement from the dealership to proceed with financing. If purchasing from a private seller, we will require a bill of sale and the seller(s) and the registered owner(s) be the same person(people) listed on the title, and the vehicle must be purchased directly from the seller(s)/registered owner.
Do I have to live in Kansas to get an auto loan from Central National Bank?
No. You may also live in Nebraska and Missouri.
Do you offer refinances?
Absolutely. Just let your banker know that you're here for a refinance instead of a purchase.
Do you do pre-approvals?
We do! With an application, we can determine the amount of a loan you would qualify for. Once pre-qualified, you can begin shopping for a car. The vehicle chosen will determine the final loan amount.
What financial information do you need from me?
At a minimum, we will need your name, email address, address, phone number, employment information, income, Social Security number, and a form of legal identification. Depending on the circumstances of your loan, the following documents may be required; registration, title, lease buyout instructions, proof of income, federal tax returns, W-2s and financial statements.
How can I make payments on my loan?
You can make payments by mail, at your local branch, where you obtained the loan; or you can set up an automatic payment at the time of application.
What if my credit score isn't perfect? Can I still get the loan?
A high credit score may get you a better rate, but will not necessarily guarantee you a loan. Other factors are taken into consideration, so check with a lender near you to determine whether an auto loan will be an option for you.
How do I apply?
You can visit your local branch and speak with one of our Personal Bankers, or you can apply online.
Apply Now
How can we help?
Let us know the best way to reach you and one of our customer representatives will be in touch.
Contact Us
Open Account
Secure Page Sign-In
Ensuring the security of your personal information is important to us. When you sign in to Online Banking on our home page, your User Name and Password are secure. The moment you click the Log In button, we encrypt your user name and password using Secure Sockets Layer (SSL) technology.
Browser Security Indicators
You may notice when you are on our home page that some familiar indicators do not appear in your browser to confirm the entire page is secure. Those indicators include the small "lock" icon in the bottom right corner of the browser frame and the "s" in the Web address bar (for example, "https").
To provide the fast access to our home page, we have made signing in to Online Banking secure without making the entire page secure. You can be assured that your ID and password are secure and that only Central National Bank has access to them.
Centralnational.com is SSL-Encypted
Secure Socket Layer (SSL) technology secretly encodes (encrypts data) information that is being sent over the Internet between your computer and Central National Bank, helping to ensure that the information remains confidential.
Leaving Site
You have requested a web page that is external to the Central National Bank (CNB) web site. The operator of the site you are entering may have a privacy policy different than CNB. CNB does not endorse or monitor this web site and has no control over its content or offerings.
Continue to Site
Cancel